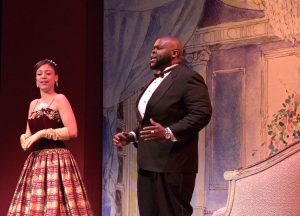 Feb 19, 2019 from The Lost Colony.
On Saturday, February 2nd, The Opera came to the Outer Banks and performed to a full crowd at First Flight High School.
The performance was brought to the stage by the local nonprofit, Elizabeth R & Company, as well as the Bryan Cultural Series. La Traviata showcased the talent of Manteo native and The Lost Colony alumni, Tshombe Selby, who is pursuing a career in opera.
Selby played Alfredo, and his powerful, tenor voice was undeniably perfect. Sarah Cooper played Violetta and the two voices created a night of Opera perfection.
Many The Lost Colony alumni were involved, including; Rob Jenkins, David Miller, Nikki Conley, John Adams, Buddy McCown, Christopher Clemmons, Barbara Hird, lebame houston and, of course, Tshombe.