From The New York Times By Ted Alcorn Nov. 16, 2018
Change has come to the Metropolitan Opera House. The largest repertory opera in the world is in the throes of innovation, simulcasting performances in HD theaters, introducing Sunday matinees, premiering modern operas and updating the classics — all attempts to bend to the new reality rather than be broken by it.
Whether these innovations will put the Met on a new trajectory is unclear, but one aspect of the institution remains steadfast: the ushers, an eclectic group whose tenures can stretch back decades.
With more direct interaction with patrons than anyone else, they are both witnesses to the change and an embodiment of something enduring and irreplaceable about the opera-going experience.
As a shift begins, they pass into the cloakroom to put on their uniforms — tuxedos with burgundy lapels, worn shiny from use. Forty-two work any given performance, each at once a rule keeper, hand holder, problem solver, diplomat.
In early to work a daytime dress rehearsal last month, Tshombe Selby walked briskly down a backstage hallway to the staff cafeteria for a quick bite. A North Carolina native, the 34-year-old has been an usher for five years, and on this day he had already turned on the charm. He navigated nimbly past other distinct tribes of opera staff — stagehands in their rugged work clothes, chorus members in period costume, square-jawed security guards — with smiles for all.
When he speaks, he tilts his head back and looks down regally, his huge frame stuffed snugly into his tuxedo. Though his voice is mellifluous and his movements gentle, it's no surprise he has worked as a bouncer. "My aunt has a saying," he said with a grin. "Don't let the smooth taste fool you."
Forty-five minutes before the show, the ushers will admit the first patrons, and when the last stragglers empty from the auditorium at night's end, they close and lock its doors. After each intermission they shepherd the crowd back inside, then enforce the Met's strict policy against seating latecomers. All the while they field ticketholders' requests and indulge their curiosities, emanating a formal but reassuring presence. "You have to be good with people," said the house manager, Jenna Grein, herself once an usher. "It's mostly about relationships."
Their duties have hardly changed from those depicted in a 1941 New York Times article, though at that time only men were employed as ushers, and their most difficult charge was preventing smoking during the intermission. For this they were paid $1 a performance. Today's group is represented by Local 32BJ of the Service Employees International Union, and receives paid vacation and health insurance.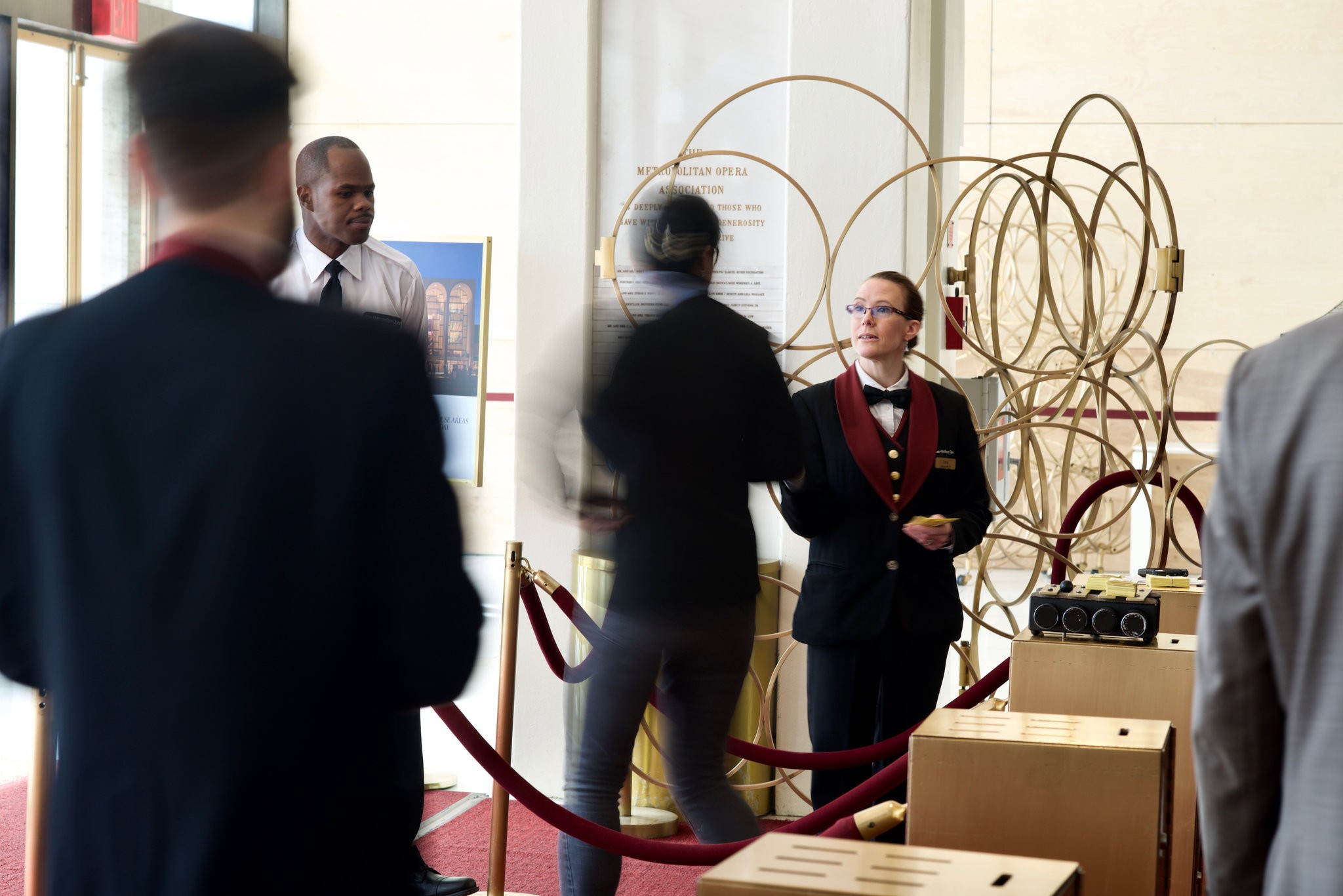 The unique responsibilities draw an unusual mix of personnel. One advantage of the job is its flexibility: as late as the afternoon of a performance, a regular usher can hand off a shift to anyone in a pool of substitutes. This arrangement has long attracted artists who might themselves be called to a last-minute audition, like the aerialist dancer Chriselle Tidrick.